So, you want to participate in a crowd sale and get your hands on some lucrative ETCV TOKENS? Follow this easy step by step guide that will help you create your ERC20 token compliant wallet.
MyEtherWallet is a quick and easy way to setup a free wallet.
Let's start:
Go to
www.myetherwallet.com
(Please make sure you are logging into the correct site: look for the lock picture and the [US]).

First, you will see a pop up introduction about MyEtherWallet — give it a quick read and click next until you've reached the end.
On the following screen, you will see a page that has NEW WALLET in the top left corner.
Choose a strong password, something that you don't use for any of your other accounts, the password should contain at least 20 characters to be safe.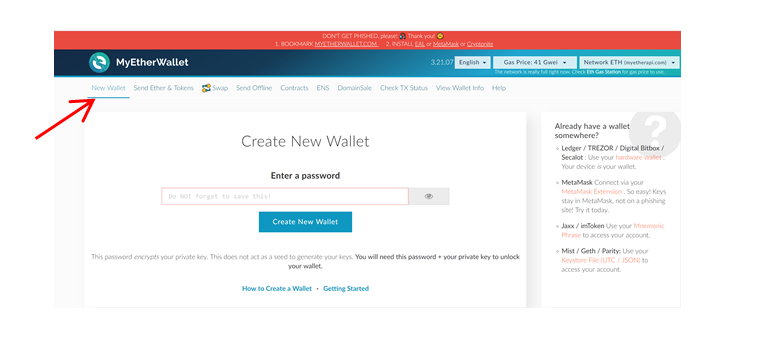 Then click "CREATE NEW WALLET" to confirm.
Next, you will receive your Keystore File (this file encrypts (protects) your private key). Take a minute to download the Keystore File. Please remember to not share this document with anyone, store it somewhere safe and make a backup, preferably not on the same computer.
The name of the file will be a long string of numbers and letters starting with UTC and then the date which you created your wallet. After saving the Key store file click on the "I UNDERSTAND, CONTINUE" button to continue.
The following page will display your Private Key information. The Private Key can unlock your wallet if you forget your password. So it's very important to keep this private key safe.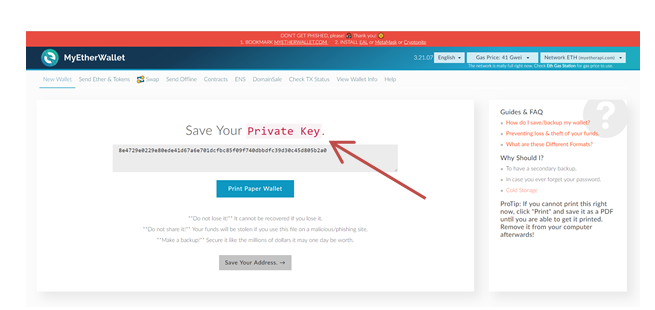 If you lose access to your private key, you will lose access to your account and your tokens. So please, I can't stress this enough. Keep it safe. You should save your private key to a safe location, preferably not on any device that is connected to the internet.
To access your wallet or to do any transactions on MyEtherWallet you will need the first file you downloaded. The Keystore file that starts with UTC and your password to unlock your wallet.
On the following screen, select VIEW WALLET INFO from the top menu
Select Keystore / JSON File
Click SELECT WALLET FILE (here, you will go and look for the Keystore File that starts with UTC that you saved on your computer or external drive)
And then type in your password and click UNLOCK.
I do not recommend logging into MyEtherWallet using your private key. If anyone is able to get access to your computer and see your private key or have access to your keystore file then they can easily access your wallet. There have recently been many reports of wallets of MyEtherWallet getting hacked. I highly recommend that you buy a hardware wallet such as Trezor (https://
trezor.io
/) or Nano Ledger (https://
www.ledgerwallet.com
/) and access your ether wallet this way.
ETCV TOKENS
Ethereum Classic Vision is a hard fork of Ethereum that leverages the best of both worlds – true decentralization of Ethereum Classic and cutting-edge protocols developed for ETH, such as PoS mining and sharding. Ethereum Classic Vision is an excellent hard fork of Ethereum – another mechanized cash that proposes strong and profitable responses to the emergency in the blockchain business. Ethereum – the world's driving stage for advancement and relationship of blockchainnapplications – at present breezes up in a noteworthy emergency.
Ethereum Classic Vision is another mechanized cash that plans to interface this gap of needs and reality. A hard fork of Ethereum, it will use most made strategies proposed for the world's second-most noteworthy impelled money, then saving the perfect of decentralization. The undertaking will consolidate such advances asmsharding, P2P resource trade, dApp improvement instruments, and decentralized report aggregating utilizing IPFS. Beginning as a PoW-based structure, it will later offer stable prizes tomtransaction validators in light of the execution of Proof-of-Stake, in the interim making an ideal condition for sending new resources.
ROADMAP
For more Information Please visit:
Website: https://ethereumcv.io/#subscribe
Whitepaper: https://ethereumcv.io/whitepaper.pdf
ANN Thread: https://bitcointalk.org/index.php?topic=5089443.0
Telegram : https://t.me/ethereum_classic_vision
Twitter: https: //twitter.com/eth_cv
GitHub: https://github.com/ethereumclassicvision
Bitcointalk username:Samuel321
Bitcointalk profile link: https://bitcointalk.org/index.php?action=profile;u=1925101
DISCLAIMER:This post was brought to you by Opeyemi being my personal project on ETCV campaign project