So, you want to participate in a crowd sale and get your hands on some lucrative LIVETALK TOKENS? Follow this easy step by step guide that will help you create your ERC20 token compliant wallet.
MyEtherWallet is a quick and easy way to setup a free wallet.
Let's start:
Go to
www.myetherwallet.com
(Please make sure you are logging into the correct site: look for the lock picture and the [US]).

First, you will see a pop up introduction about MyEtherWallet — give it a quick read and click next until you've reached the end.
On the following screen, you will see a page that has NEW WALLET in the top left corner.
Choose a strong password, something that you don't use for any of your other accounts, the password should contain at least 20 characters to be safe.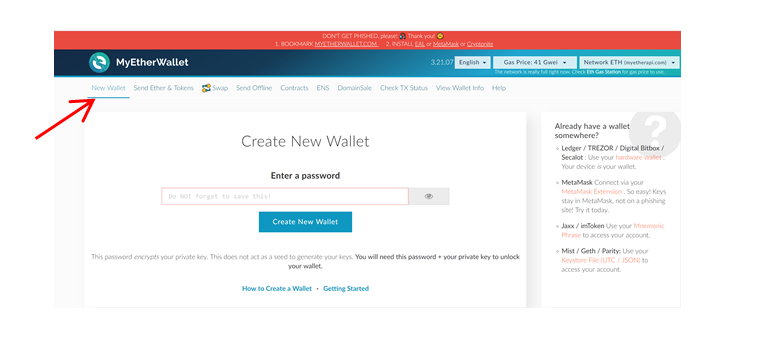 Then click "CREATE NEW WALLET" to confirm.
Next, you will receive your Keystore File (this file encrypts (protects) your private key). Take a minute to download the Keystore File. Please remember to not share this document with anyone, store it somewhere safe and make a backup, preferably not on the same computer.
The name of the file will be a long string of numbers and letters starting with UTC and then the date which you created your wallet. After saving the Key store file click on the "I UNDERSTAND, CONTINUE" button to continue.
The following page will display your Private Key information. The Private Key can unlock your wallet if you forget your password. So it's very important to keep this private key safe.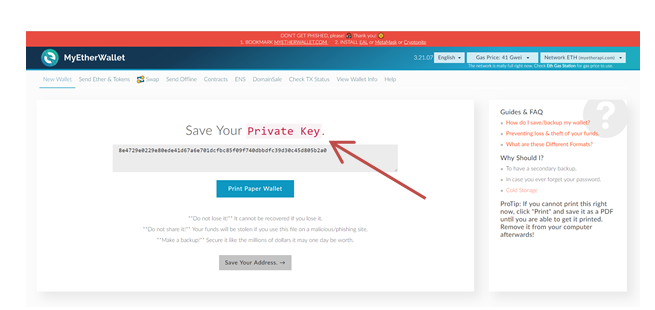 If you lose access to your private key, you will lose access to your account and your tokens. So please, I can't stress this enough. Keep it safe. You should save your private key to a safe location, preferably not on any device that is connected to the internet.
To access your wallet or to do any transactions on MyEtherWallet you will need the first file you downloaded. The Keystore file that starts with UTC and your password to unlock your wallet.
On the following screen, select VIEW WALLET INFO from the top menu
Select Keystore / JSON File
Click SELECT WALLET FILE (here, you will go and look for the Keystore File that starts with UTC that you saved on your computer or external drive)
And then type in your password and click UNLOCK.
I do not recommend logging into MyEtherWallet using your private key. If anyone is able to get access to your computer and see your private key or have access to your keystore file then they can easily access your wallet. There have recently been many reports of wallets of MyEtherWallet getting hacked. I highly recommend that you buy a hardware wallet such as Trezor (https://
trezor.io
/) or Nano Ledger (https://
www.ledgerwallet.com
/
) and access your ether wallet this way.
Token Sale and ICO Details
Token LVT is the Token ERC20 standard is deployed on the network Ethereum. It is determined in advance,limited supply, easy integration with both the floor and the traditional hierarchy.
Of its supply by 5 billion unit and will not be separated. No more Token will be exploited or cast in the future.
In version launches LiveTalk Network platform, the token cryptocurrency is an LVT allows right now free transactions costs inside LiveTalk Network.
TokenLVT function as a single payment platform Livetalk.
Users use token LVT to pay content which Broadcasters sell, used to donate to Broadcasters or purchase virtual items have in LiveTalk to donate for Broadcasters.
The advertising companies will use LVT to payments to Broadcasters when wanting to promote their products to viewers.
LiveTalk Network is a complete economic market. As more users join the network token values LiveTalk LVT. LVT token can also be used as a mechanism for transmitting values between users within the platform.
Broadcasters put the price of the product which he wants to be paid from the receiver see.
The live broadcast or video (e.g. 10 Token LVT to be watching Live Stream of him or 30 LVT to be watching video of him), select one of the case.
Transferred token provides (for example, 5 Token LVT per hour) and moving charge into smart contract acts as an escrow.
Token Details
LVT token symbol
Type - ERC20
LVT 1 ICO Token = 0.007 USD
3 000 000 US dollars of soft cover (strict limit of 18 million US dollars)
ETHEREUM platform
Total tokens - 5 000 000 000
White list - NO
Customer Identification (KYC) - YES
Armenia and China can not participate.
Allow - ETH, BNB, ZRX, OMG
Token Distribution
For more information, please visit:
Website : https://livetalk.tech/
Whitepaper : https://livetalk.tech/WhitePaperLiveTalk.pdf
ANN Thread : https://bitcointalk.org/index.php?topic=4914859
Facebook : https://www.facebook.com/Livetokenlvt
Twitter : https://twitter.com/livetokenlvt
Telegram : https://t.me/LiveTalkICO
Instagram : https://www.instagram.com/livetoken/
Bitcointalk username:Samuel321
Bitcointalk profile link: https://bitcointalk.org/index.php?action=profile;u=1925101
DISCLAIMER:This post was brought to you by Opeyemi being my personal project on Livetalk campaign project