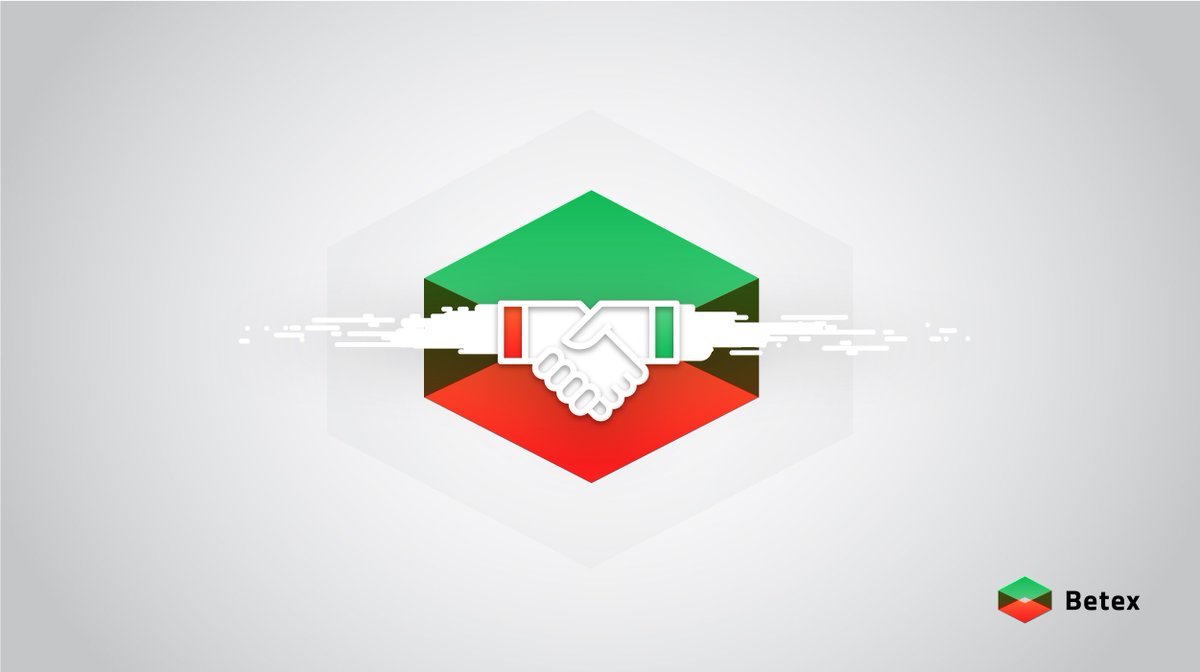 INTRODUCTION


Betex is the leading-edge platform for peer-to-peer binary options, powered with Ethereum smart contracts,Binary options is a financial derivatives instrument that challenges traders to foresee the right direction of the price movement for an underlying asset at a given point of time in the future.Forecasting horizon varies from a few minutes up to several months.To receive income for having defined the right direction, in which the price of an underlying asset happens to move, traders can use binary options instead of actually buying that asset. Thus, it is enough to forecast one of the two possible options— price increase or decrease. If the assumption is accurate for a given moment in time and asset price changes in the indicated direction, traders gain.And otherwise, they lose.Any trading pairs that are comprised of quotes (currencies, indices, stocks, metals, minerals,oil etc.)may be considered as basic assets for binary options.

HISTORY OF BETEX

The first regulated binary options took place in the US in 2008. In early May 2012, the Cyprus Securities and Exchange Commission (CySEC) included Binary Options to the list of financial instruments recognized by the law of the Republic of Cyprus on Investment Services, Investment Activities and Regulated Markets of 2007.Thousands of brokers and traders worldwide were massively employing this instrument back then. It was greatly favored for the simplicity of concept and high chances of success. The industry was experiencing exponential growth until 2014, reaching tens of billions of dollars in its annual turnover.But something went wrong there. In the following years, regulators from all over the world have been making rather strong statements, claiming that binary options is a deceit and discouraging traders to get involved.
For instance,
American Regulators have issued a "Warning to Investors", which explained that legitimate platforms for binary options trading must be registered with authorities and comply with a set of rules. And yet,no web-platforms, brokers, or whatsoever, possess the relevant registration in the US.
The Times Of Israel' magazine has published a series of articles entitled "Wolves Of Tel Aviv: The Grand Immoral Cheating Of Binary Options", exposing the binary options industry as a big scam.The Commodity Futures Trading Commission warns that ―online platforms for binary options mislead users, promising huge gains at a limited risk. In reality, users lose their money in days while companies make profits‖.

PROBLEMS FACED

We have analyzed the traditional binary options model to get a better understanding of all the reasons,causing unfavourable attitude towards binary options and leading such a great idea to downfall.
▸Traders bet against brokers. So trader's loss is broker's gain. Hence, the reason for brokers to make sure traders mostly fail. There is a common belief that 90% of traders' funds eventually end up in brokers' pockets.
▸In general, trader's reward, in case he was right, stays fixed regardless of other factors, meaning,sometimes you should have had way more than did. Maximum that's ever available varies from 75% to 90% of the rate.
▸Trading process takes place in a broker's backend, so it is not transparent. Such system allows manipulating data in a way that makes it difficult for anyone to find out the process was altered.
▸At times, it's required to make a deposit to start trading, what takes time. Withdrawal takes evenmore time.If funds get frozen, users have to order or buy something to be able to make withdrawal.
▸Quotations are often obtained from providers in a corrupt manner. And even then,it does not guarantee accuracy and validity of the given data.
▸Even if brokers treat you right, it is impossible to prove, making trust a critical factor in a decision-making process.

SOLUTION OFFERED

▸Outcome of a bet makes no difference to us (as the platform provider), or to brokers, as neither of us can actively take part in the betting process. We charge service fees, while traders place bets against each other (peer-to-peer).
▸No deposits are required and an instant automatic withdrawal of funds is ensured. It is mainly possible due to the use of smart contracts.
▸Traders who accurately determine future changes are rewarded with 95% of funds. In case of success, trader's gain largely depends on the ratio of the correct and incorrect outcomes;
▸Both the platform and brokers can always prove authenticity and accuracy of the results. In the worst case scenario, if a mistake is made, it will be admitted or justified. Hence, it is no longer needed to trust each other to be sure terms are fair.
▸Trading is realized with ERC-20 tokens of stable value. It is stored and presented in the Ethereum blockchain, making it possible to audit the platform operations in real time, or later.Open access to data prevents intermediaries from altering results;
▸50% of the platform's profit made from commission is distributed among BETEX token holders.40% goes to brokers.
▸A composite rate, used in all calculations, is derived from several open sources by an established algorithm, considering the value of each source that is defined by trading volume. Using multiple sources makes entangles possible manipulations with the rate of an underlying asset, since they would have to be done in several places simultaneously. Working out of the composite rate is a completely open and transparent process: it is being logged and presented for public access in real time.



BETEX PLATFORM




Betex is a leading platform for P2P financial derivatives trading. This lets users place bets on future changes with each other. As a platform provider, we can not engage in betting. Thus, there is no way for us to use it. We only benefit from collecting service fees.

Built with Blockchain technology, unlike traditional platforms, Betex provides access to real-time data, ensuring absolute system transparency. Determined to rediscover the financial derivatives market, we strive to instill irreversible business logic that will convincingly eliminate the issue of trust.




ADVANTAGES of Betex platform:




• Transparency: Blockchain technology will provide open access to information at all times, ensuring transparent processes, accurate data, fair and equitable requirements.

• Fair Billing: Whatever your bet results, we will benefit from the collection of service fees.

• General Liquidity Association: The goal is to consolidate the maximum liquidity of the derivatives market by establishing a common set of liquidity for each commercial source instead of creating multiple.

• White label for brokers: This system will enable fast connection of brokers that contribute to maintaining high liquidity and ensuring increased turnover of the platform in a short time and with low cost.

• No deposit: Platform users will have instant access to all functions and resources without having to make any type of deposit first.

• Instant Payout: Payments will be automatically released by a smart contract directly to your ETH portfolio, ensuring immediate withdrawal without delay or cancellation.

• Built-in exchange: After all operations on the system are performed on the Ethereal token with a stable SBT value, the built-in exchangers will be used to exchange encryption or other tokens to the SBT via platform.

• Reference Program: This platform will offer a unique referral program. The bonus size will be chosen by the broker and will generally be equal to 0.5%. Thus, the user can earn up to 0.5% of the turnover of the person referred to by Him. standalone model0.5% of the global turnover will be used for platform support and development.

• AWS Infrastructure: Placement of infrastructure in the Amazon will provide the level of reliability, scale of hardware, the speed of delivery of content to anywhere in the world.
With Betex, traders will bet against each other, not against platform providers or other intermediaries. Built with Blockchain technology, unlike traditional platforms, Betex will provide access to real-time data, ensuring absolute system transparency. Thus, there is no doubt that all users are treated equally and fairly
.
BETEX TOKEN and ICO DETAILS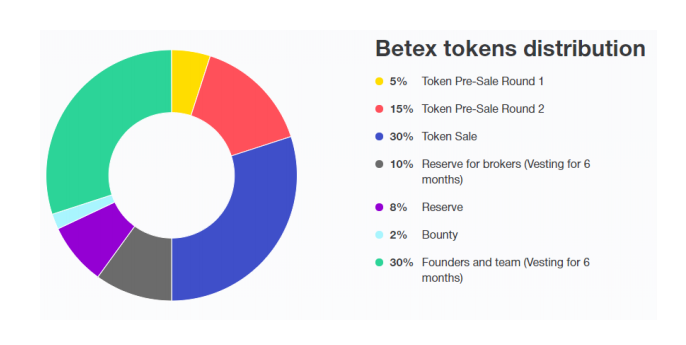 MEDIA
TEAM
For more information please check the link below:

WEBSITE : https://betexlab.com/
ANN thread : https://bitcointalk.org/index.php?topic=2518678
WHITEPAPER : https://betexlab.com/betex-wp.pdf
TWITTER : https://twitter.com/betex_tokens
FACEBOOK : https://www.facebook.com/Betex-Lab-108138139938618/
TELEGRAM : https://t.me/betex_ico
Bitcointalk profile link:https://bitcointalk.org/index.php?action=profile;u=1925101