So, you want to participate in a crowd sale and get your hands on some lucrative AQWIRE TOKENS? Follow this easy step by step guide that will help you create your ERC20 token compliant wallet.
MyEtherWallet is a quick and easy way to setup a free wallet.
Let's start:
Go to
www.myetherwallet.com
(Please make sure you are logging into the correct site: look for the lock picture and the [US]).

First, you will see a pop up introduction about MyEtherWallet — give it a quick read and click next until you've reached the end.
On the following screen, you will see a page that has NEW WALLET in the top left corner.
Choose a strong password, something that you don't use for any of your other accounts, the password should contain at least 20 characters to be safe.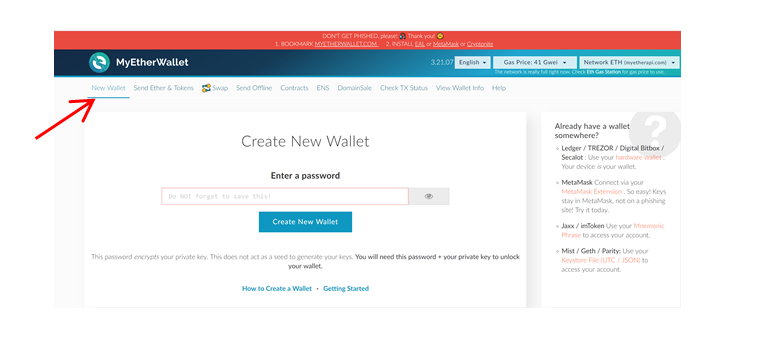 Then click "CREATE NEW WALLET" to confirm.
Next, you will receive your Keystore File (this file encrypts (protects) your private key). Take a minute to download the Keystore File. Please remember to not share this document with anyone, store it somewhere safe and make a backup, preferably not on the same computer.
The name of the file will be a long string of numbers and letters starting with UTC and then the date which you created your wallet. After saving the Key store file click on the "I UNDERSTAND, CONTINUE" button to continue.
The following page will display your Private Key information. The Private Key can unlock your wallet if you forget your password. So it's very important to keep this private key safe.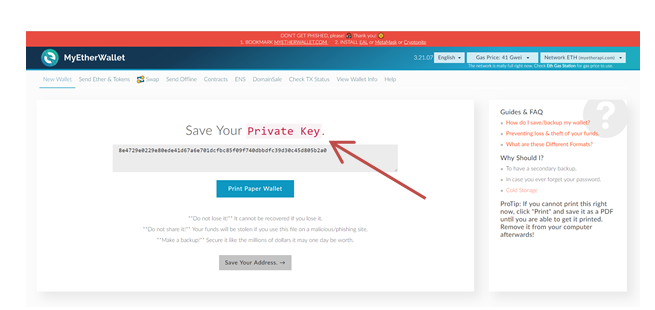 If you lose access to your private key, you will lose access to your account and your tokens. So please, I can't stress this enough. Keep it safe. You should save your private key to a safe location, preferably not on any device that is connected to the internet.
To access your wallet or to do any transactions on MyEtherWallet you will need the first file you downloaded. The Keystore file that starts with UTC and your password to unlock your wallet.
On the following screen, select VIEW WALLET INFO from the top menu
Select Keystore / JSON File
Click SELECT WALLET FILE (here, you will go and look for the Keystore File that starts with UTC that you saved on your computer or external drive)
And then type in your password and click UNLOCK.
I do not recommend logging into MyEtherWallet using your private key. If anyone is able to get access to your computer and see your private key or have access to your keystore file then they can easily access your wallet. There have recently been many reports of wallets of MyEtherWallet getting hacked. I highly recommend that you buy a hardware wallet such as Trezor (https://
trezor.io
/) or Nano Ledger (https://
www.ledgerwallet.com
/
) and access your ether wallet this way.
Utilities of QEY: What You Need to Know
The Real Estate industry is one of the many industries that can truly harness the benefits of Blockchain Technology. Early adopters have found that blockchain, indeed, helps with streamlining many of the processes involved in selling and acquiring properties, especially in cross-border transactions.
This observation led many aspiring entrepreneurs to dive into the technology and start real estate related blockchain projects. Eventually, access to funds has become easier through projects that fractionally tokenize illiquid assets. While Pros like liquidity and access to immediate funds may seem very attractive, Cons like policies and regulations regarding property sales might hinder these types of projects.
This led to people being more pessimistic and wary about real estate blockchain projects, adding another barrier of entry for the technology to be adapted, used and more importantly, change the way we do real estate.
What makes QEY different?
Unlike most real estate blockchain projects, AQWIRE does not offer fractional tokenization of real estate properties, be it private nor corporate assets. We believe that there are inherent dangers in openly trading illiquid assets.
What we did instead, is that we made it a mission to embed several utilities in QEY tokens that can help reduce, if not totally remove, difficulties present in buying and selling cross-border properties.
By the time the AQWIRE platform goes live, some of these utilities can be used on the platform. And as we grow our network and expand across different countries, more utilities will be added to give even more value to the token. This plan perfectly fits the overall goal of the team — to make real estate processes faster, more efficient and save everybody involved more time and money.
For more information, please visit:
Website: https://crowdsale.aqwire.io/
Facebook: https://www.facebook.com/aqwireplatform
Telegram: https://t.me/aqwire
Twitter:https://twitter.com/aqwireofficial
Medium:https://medium.com/aqwire
Bitcointalk username:Samuel321
Bitcointalk profile link: https://bitcointalk.org/index.php?action=profile;u=1925101
ETH ADD:0x5B606c2F10687e77dc7Fe644E429320C6a39Df63
DISCLAIMER:This post was brought to you by Opeyemi being my personal project on Aqwire campaign project