So, you want to participate in a crowd sale and get your hands on some lucrative BITOZZ TOKENS? Follow this easy step by step guide that will help you create your ERC20 token compliant wallet.
MyEtherWallet is a quick and easy way to setup a free wallet.
Let's start:
Go to
www.myetherwallet.com
(Please make sure you are logging into the correct site: look for the lock picture and the [US]).

First, you will see a pop up introduction about MyEtherWallet — give it a quick read and click next until you've reached the end.
On the following screen, you will see a page that has NEW WALLET in the top left corner.
Choose a strong password, something that you don't use for any of your other accounts, the password should contain at least 20 characters to be safe.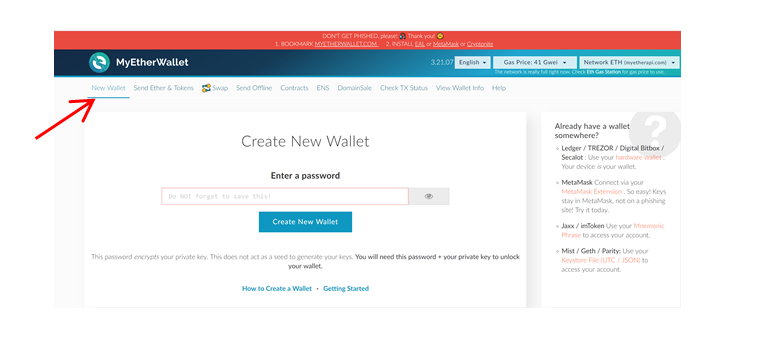 Then click "CREATE NEW WALLET" to confirm.
Next, you will receive your Keystore File (this file encrypts (protects) your private key). Take a minute to download the Keystore File. Please remember to not share this document with anyone, store it somewhere safe and make a backup, preferably not on the same computer.
The name of the file will be a long string of numbers and letters starting with UTC and then the date which you created your wallet. After saving the Key store file click on the "I UNDERSTAND, CONTINUE" button to continue.
The following page will display your Private Key information. The Private Key can unlock your wallet if you forget your password. So it's very important to keep this private key safe.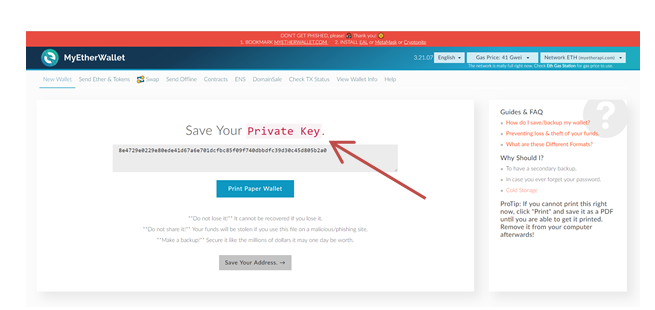 If you lose access to your private key, you will lose access to your account and your tokens. So please, I can't stress this enough. Keep it safe. You should save your private key to a safe location, preferably not on any device that is connected to the internet.
To access your wallet or to do any transactions on MyEtherWallet you will need the first file you downloaded. The Keystore file that starts with UTC and your password to unlock your wallet.
On the following screen, select VIEW WALLET INFO from the top menu
Select Keystore / JSON File
Click SELECT WALLET FILE (here, you will go and look for the Keystore File that starts with UTC that you saved on your computer or external drive)
And then type in your password and click UNLOCK.
I do not recommend logging into MyEtherWallet using your private key. If anyone is able to get access to your computer and see your private key or have access to your keystore file then they can easily access your wallet. There have recently been many reports of wallets of MyEtherWallet getting hacked. I highly recommend that you buy a hardware wallet such as Trezor (https://
trezor.io
/) or Nano Ledger (https://
www.ledgerwallet.com
/
) and access your ether wallet this way.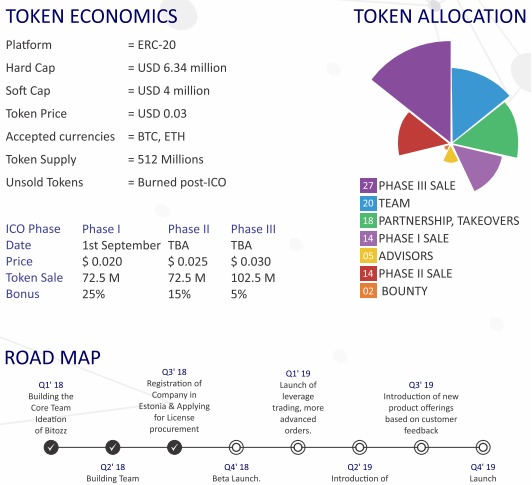 Token features.
Buy-back plan: Every quarter, we will use 10% of our profits to buy back Bitozz Tokens and burn them, until we buy 59% of all the Bitozz Tokens (302,045,455) back. All buy-back transactions will be announced on the blockchain. We will eventually burn 302,045,455 Bitozz Tokens, leaving 210 Million Bitozz Tokens in circulation. Dividend: Every month, we will distribute on pro-rata basis 10% of our profits (Payable in BTC) to Bitozz Token Holders holding the coin for more than specified days as on the date of distribuon. This practice of distributing bonus will be continued until 31st of December 2022. Referral Income: (Invitation Bonus) becomes payable to a person inviting new users on our plaotform for investing or trading. An incentive of 10% of the amount invested would be given for all direct referrals (5% to be paid in BTC in real time and 5% to be paid in Bitozz Tokens on 30th June 2019). Bitozz tokens as collateral: Bitozz tokens will be accepted as collateral for fiat loans. We have already partnered with Depository Network and in talk with few major fiat loan providers.
for more information visit the following links:
Website:
https://bitozz.com/home
Twitter:
https://twitter.com/BitozzExchange
Facebook:
https://www.facebook.com/bitozzexchange/
Telegram:
https://t.me/bitozz_exchange
Ann thread:
https://bitcointalk.org/index.php?topic=5036305.msg46088103#msg46088103
Bitcointalk username:Samuel321
Bitcointalk profile link: https://bitcointalk.org/index.php?action=profile;u=1925101
DISCLAIMER:This post was brought to you by Opeyemi being my personal project on Bitozz campaign project