Note:This is my personal work on IDM campaign project....ENJOY!!
By-Opeyemi
Blockchain based technology has the ability to transform traditional businesses. The distributed ledger technology is able to eliminate large amounts of record-keeping, save money and improve IT solutions. Blockchain is a foundational technology that can be implemented by any size of company to better it's economical, social or technical system.
Blockchain is useful as it removes the governing body by decentralizing the process. It is a peer-to-peer network with a distributed timestamping server, where information is exchanged between disparate parties. Each user is an administrator, eliminating an overseeing administrator. This type of technology is useful to speed up processes, reduce costs and increase efficiency.
Today every transaction, contract and record is overseen by governing bodies that can take time to analyze, but with blockchain these critical functions can be kept up with, through digital transformation — blockchain enabled technology. In industries where change is needed to speed up processes, blockchain enables a future solution.
Blockchain will allow a world where every interaction between people and companies can be embedded in digital code and stored in a ledger. This process is transparent, secure and protected. Verified digital records and signatures would be stored, eliminating the need for intermediaries in the process.
Blockchain stores data using mathematical and software rules that ensure security for users. Each transaction ever made on blockchain can be found on the accounting ledger. Each transaction has a unique cryptographic fingerprint and a key which is passed every time an agreement is made to share data. Each transaction has to be agreed upon before it is recorded and this is encrypted and linked. Blockchain is able to disrupt and transform the industries where data is highly confidential and where data needs protecting.
Today users give and share their data away everyday to online apps to use free services from them, some examples are Facebook, Google, LinkedIn and more. Data analytics firms use the data from big online companies that store your data that often lead to data breaches. Blockchain prevents this as each request to receive information must be verified by the creator of the data.
Blockchain enables fast and economical transactions to take place without the need for intermediaries and high costs. Transactions can be fast, recorded and easy to be made by anyone anywhere. Ensuring that transactions can be authenticated and verified is made easy through blockchain as everything can be traced.
Through a single record-keeping digital ledger transactions can be completed faster and more efficiently which is shared among agreed participants through this blockchain enabled technology. As companies need to keep costs down, blockchain enables transactions to happen between two parties, eliminating middlemen.
Blockchain technology enables tokenization, or earning tokens through the transfer of data on the internet. The products and services that create these tokens attain fluidity and liquidity making them global and compatible to all internet users. Earning tokens for each transaction on blockchain enabled technology means that you can own tokenized digital currency in your digital wallet.
For IDM the potential for disruptive applications built on the IDM platform is significant. IDM's blockchain-based architecture and its potential benefits can transform and enhance traditional businesses.
INTRODUCING IDM
Ideal Memory Data (IDM) – a platform that provides secure data storage and decentralized project data exchanges that have the best value for potential investors or investors, it is one of the fastest growing projects, due to the hesitant exchange of digital assets in earlier this year has significantly increased. The network definition uses a completely unique theme from other Pallet platforms around the world, having a balance value and investment process, which has a value of more profit than the capital required for current digital-asset trading. IDM is a blockchin platform, which for the first time introduces a unique creative idea in a symbolic economic market economy, which can start a personal trading and digital asset exchange platform.
IDM is one of the outcomes of the blockcheynov industry, which is experiencing good performance and great ideas, based on a system that directly opens the possibility for investors to be more open with symbolic investments. Being one of the first platform platforms to be generated, the company wants to realize and help investors to be more worried about the world's most afflicted economic weaknesses in the concept of mutual assistance as investments that can be exchanged by registered users in this chain of blocks. Some Important Points from the IDM Platform This will be a moment when most of the registered investors or potential investors who start their business on this platform will do business.
In the 21st century is the age of information. More and more data are generated on the daily basis creating an ever-increasing demand for storage space. Not every home computer, let alone a mobile device, can store all its own generated data. The capacity of the built-in memory is growing along with requirements for data safety. The increased volume of generated data proportionally increases the number of potential threats to the storage of this data.
With the growth in the number of devices, cloud storage services are becoming increasingly important. Many cloud storage providers promise fast, reliable and convenient services. However, the things are a bit more complicated.
Global problem
Rough estimates suggest, as a result of a cybercriminals' activity, the global economy loses$ 114 billion annually. Since the emergence of the WorldWide Web, the United Stated alone suffered losses of around $400 billion. This is three times more than the country's annual budget for education.
Solution to the global problem
Global expansion of the IDM data storage service powered by SIZE technology, will prevent consumers and businesses from losing data, and therefore, from suffering losses associated with hacker attacks and theft of information
Architecture
Countermeasures to emerging threats
The encryption of data by the user could be a viable method of countering cyber-attacks and potential data theft;
Another way is to select an additional option offered by cloud service, which provides uploaded data to be encrypted by the service;
The two-factor authentication (2FA) allows to increase the level of data access protection with minimum costs; 4. An anti-virus software which is a more conservative method of data protection.
Safety rating of popular cloud storage services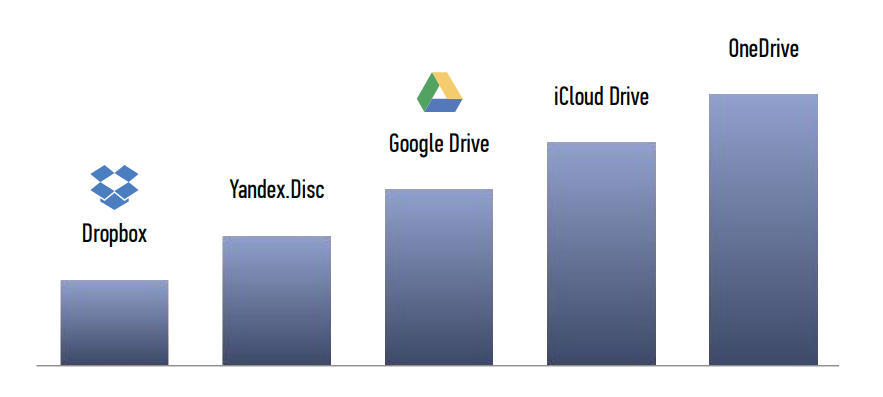 The world-famous company UBER was subjected to a massive cyber attack, as a result, the data of 57 million drivers and customers had been stolen.
The most disturbing thing was covering by the company the very fact of hacking and theft, and the payment to the perpetrators a ransom of $ 100 thousand dollars. The attack was interesting in itself because hackers got access to the company's data through the GitHub service, where they hacked several accounts, downloaded data from Uber employees and with this data accessed a huge array of Uber data in the Amazon Web Services used by Uber for calculations.
Several years earlier, Yahoo and Equifax were hacked, along with many other companies and private accounts.
The need for the guaranteed security of stored documents
Currently, there isn't a single data storage on the market that can guarantee the absolute security of the documents that have special value and, at the same time, is accessible for the ordinary people
The consumers have the demand for secure storage of their personal and classified documents of particular importance
IDM introduces the service that can boast the superior level of security which is way higher than the one offered by any of the similar providers on the market and exceeds all State standards regarding the secure data storage
Despite the fact that almost all State services have the highest level of data protection, they also experience the leak of data
Token Details
Token Distribution
2% Bounty
5% Developers
13% Team
20% Reserve Fund
60% For Sale
34,5% Personal Documents
32,7% Photo and Video Files
21,8% Financial and Banking Information
10,0% Business Information
RoadMap
2010 - The SIZE algorithm was successfully tested on CamGrid network at the Cavendish Laboratory at the University of Cambridge in the United Kingdom.
2012 – Foundation of Equivalence AG
2014 - An ultra-secure file-sharing program based on SIZE technology was introduced at "Hack in Paris" where the global hacker community tried to crack the algorithm without success.
2015 - The launch of a publicly available version of the BoobookBox for business and private users.
March 2018 - Technology has been successfully tested in European cybersecurity laboratories.
April 2018 - ICO for the global decentralized ultra-secure storage service IDM
2019 – Launch of IDM service
2019- Development of the cloud blockchain platform (SaaS) based on SIZE data protection technology
2019 - 2020 - Implementation of a marketing strategy for the promotion of the IDM service and SIZE technology
2020 - 2022 - Development of a decentralized and distributed cloud platform (PaaS)
Team
CONCLUSION
I wrote articles about more than 150 ICOs in last six months and spent hundreds of hours reading and thinking about them. I must say that I am impressed with everything about IDM project, from their website, promotion video, idea, already established business, a ton of documents and papers with use cases and business plans for the future and of course people behind this project. This is how you prepare a project for ICO and present it to the public and potential investors, and all future ICOs could learn from IDM. Big respect from me,For everyone else planning to participate in this ICO, I encourage you to join this project
For more information, please visit:
Website :
https://myidm.io/
Whitepaper :
https://myidm.io/img/doc/wp_en.pdf
Ann Thread :
https://bitcointalk.org/index.php?topic=3395543.msg35555064#msg35555064
Video :
https://myidm.io/video/idm_720p_en.mp4
Facebook:
https://www.facebook.com/IDMdatasec
Twitter:
https://twitter.com/IDMdatasecurity
Reddit:
https://www.reddit.com/user/IDMdatasecurity
Telegram :
https://t.me/idmprotect_en
Bitcointalk URL:
https://bitcointalk.org/index.php?action=profile;u=1925101